Room dividers are a great way to break up a space while doubling as a great way to decorate. Sharing a space with someone can sometimes be tough. Dividing tools include room dividers, desk dividers, and even closet dividers. Whether you are trying to split up a small apartment or doing a DIY renovation, room dividers can be fun to implement. If you've been looking to make the most of your space, it is time to divide it.
Use some Curtains
One of the easiest ways to divide a room is using fabric. As simple as it may seem, hanging a curtain or some other fabric can prove a satisfactory divider. Although it is less of a permanent fix, a curtain can offer flexibility and easy adjustability.
You can find several kinds of ceiling tracks in home improvement stores near you. Together with sturdy hooks, use these to hang the curtains. If you do not want to use ceiling tracks and hooks, you may get ceiling joists into which you screw the hooks. Complete the project by hanging the curtain on rods set to rest on the hooks.
To make this option even more suitable to both occupants of the room, consider using different fabrics. Choose two fabrics that each occupant likes and sew them accordingly to face the opposite sides of the room.
Use a Rug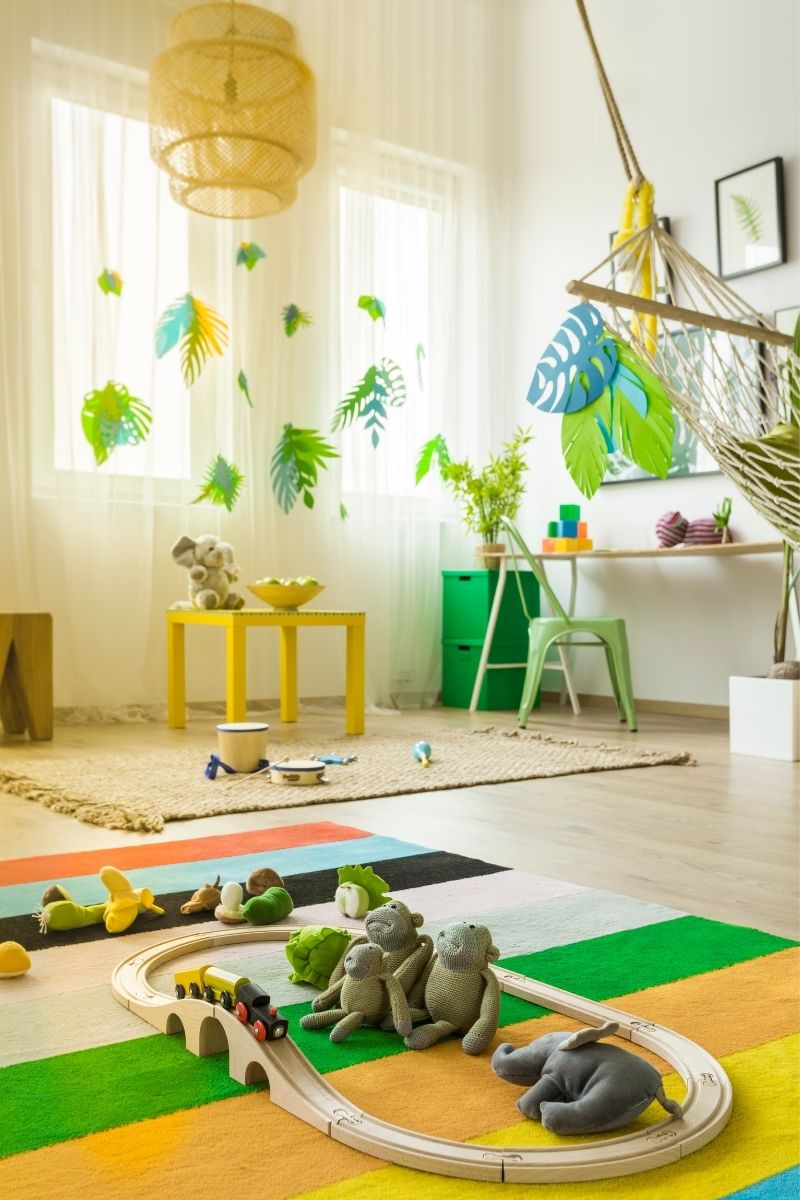 Rugs might not be the first thing you think of when searching for room dividers. However, in the basic sense of the term, room dividers are tools used to show a demarcation at the very least. Using a rug in a very sharp contrasting colour against your floor can help create a sense of boundaries in your space.
Repurpose a Bookshelf
Whether you are a budding bookworm or a hesitant reader, a bookshelf can still serve you in one way or the other. One surefire way to make a room divider and double down on storage space is to repurpose a bookshelf. Bookshelves come in a wide variety of sizes and styles, so make sure to pick one that both occupants like. It is best to opt for an open bookshelf so that the contents are easily accessible from either side.
If you happen to have a bookshelf among your furniture, you can simply paint and restore it to match your taste. You can make a solid back on agreed portions of the bookshelf by adding a pegboard to the opposite side to create a sense of privacy!
Repurpose Some Shutters
Shutters are a great way to give room occupants privacy when they are closed. They can be used to divide rooms, and although they are also a temporary fix, they do look great when they are opened to allow natural light to filter in.
Repurpose a Clothing Rack
This idea is particularly exciting because not only does it solve your room sharing problem, but it also addresses storage space. If the room you are looking to divide is small or does not have enough room to accommodate any extra outer clothing racks, then you are in luck.
Rather than stuffing your clothing rack into a tight, cramped corner in your room, you could very easily use the rack as a demarcation. If the occupants are feeling like it, they can set their clothing racks like so. That way, they have easy access to their outfits, and they get some privacy while at it!
Make a Plant Wall
If you and your roomie find that you both love plants, then you just might have hit the jackpot! Plants are a great way of decorating your home on a budget. There are tons of beautiful plant species that are easy to take care of. This makes a wall of plants are great and aesthetically pleasing room divider.
All you need is a shelving unit of some sort in which you can grow your potted plants. Sure, watering and catering to them might require a lot of time and effort, but when has something good ever not?!
In the video below you will find another great way to make a room divider with plants:
Maximize Your Furniture
Thus might not do much in the way of providing a sense of privacy. However, strategically arranging your furniture to purposely form a clear demarcation in the room works great too!
You don't have to head out to find your perfect room divider. All you have to do is shake things up a bit and rearrange the furniture you already have. That couch or coffee desk could be doing so much more if you just let it!
Use Folding Screens
Folding screens are undoubtedly the most common option when it comes to room dividers. They are versatile, functional, and come in a variety of colours and styles. Instead of buying a folding screen, you can try and make one yourself from wood, old doors, or even shutters! All you have to do is make several shutters and attach them together side by side with hinges. The screen frames can then be covered with fabric that suits each occupants' personal taste.
Use a Common Area
Building a common area does very little in the way of providing privacy. However, a shared room can still be divided with this technique regardless. You can use a table and chairs or even multiple desks placed back-to-back to signify boundaries. If you use one desk with multiple chairs, the desk can be further separated using a desk divider. Creating boundaries and sharing a space can be easy!