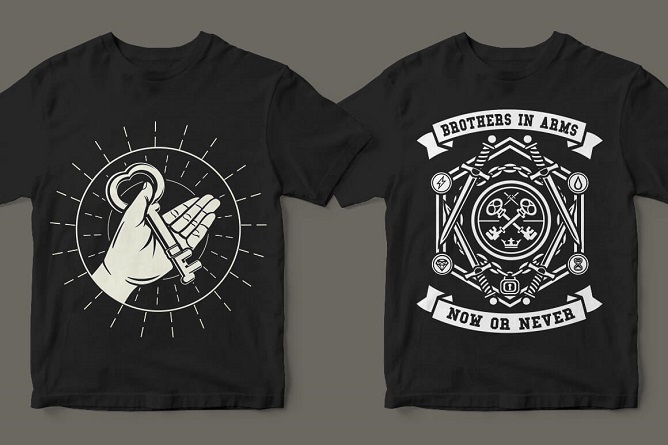 If you are putting up a t-shirt or custom hoodies business, you should know how important it is to be able to make 100% quality guaranteed t-shirts and so as their designs.
When you are making your custom t-shirts already, make you sure that in finding the designs, you should not waste any second of your time in order to be very productive and have a huge number of productions of custom t-shirts and earn money as soon as you start and have customers.
In making your very own T-shirt design, it is not really necessary that you have to hire a professional graphic designer. You yourself can make your custom t-shirts design if you wanted to.
There are many ways you can do the designing of your shirt like downloading graphics and fonts and also using other software or applications for you to make your custom design.
Steps in Making a shirt design:
Find a good theme for your shirt.
Make a design on an editing tool or application or some resources you can get online.
Using a designing tool try making your own custom design.
Upload your designs to a print shop to have some sample.
Promote your shirt designs
Make some research for a guide on designing your shirt
Before starting to your own shirt, you need to confirm first the kind of topic or theme you choose to know if it has a volume. You can perform manual research or posts about a certain theme you choose and then you decide if the theme you choose is a good one or not. It is the chance for you to weigh things or decisions.
Check what designs can easily be sold
Before starting to make your own designs, consider the trending designs for you to not waste your time designing a shirt that will not be sold because it is not the design that is really in demand.
When making those designs, you should consider the different elements you need to put in your design and what blends nicely with the color of the t-shirt you are designing.
There are many marketplaces that you can check and look through for some inspiration and guidance. When looking through online marketplaces, check what is very popular in their market and see what you can add to your design for it to be as popular as the shirt they sell that sells out the most.
When deciding to draw inspiration from other people's designs, make sure that it is not just a design that you personally decided to be attractive and nice. You should consider different factors too such as the design, the theme, the kind of shirt, the style of the shirt, etc.
With this, you can go over some reviews online if their website has that, and see their customer's feedback and then that is the time you will decide what exact design to make for your customer that will satisfy them a 100%.
Hence, in whatever it is you plan to do, there are steps and guides that you can and should follow in order to organize the things you want and plan to do just like designing a T-shirt and selling out your design for better business.